PALESTINE
1948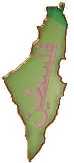 2002

- 54 -

1948 - Al Nakba (Catastrophe)
2002 marks the 54th anniversary of Al- Nakba (Catastrophe). In human terms, that year saw the mass deportation of a million Palestinians from their cities and villages, massacres of civilians, the razing to the ground of hundreds of Palestinian villages in present day Israel, etc.
The war resulted in many Palestinian families driven out of their homes and villages. more than 420 Palestinian settlements were destroyed, sealed or expropriated by Israel in 1948
Quotes:
"Jewish villages were built in the place of Arab villages. You do not even know the names of these Arab villages, and I do not blame you because geography books no longer exist, not only do the books not exist, the Arab villages are not there either Nahlal arose in the place of Mahlul; Kibbbutz Gvat in the place of Jibta; Kibbutz Sarid in the place of Huneifis; and Kefar Yehushu'a in the place of Tal al- Shuman. There is not one single place built in this country that did not have a former Arab Population."
-- Moshe Dayan, Address to the Technion, Haifa ( as quated in Ha'aretz, 4 April 1969)
"By the end of the 1948 war, hundreds of entire villages had not only been depopulated but obliterated, their houses blown up or bulldozed. While many of the sites are difficult of access, to this day the observant traveler of Israeli roads and highways can see traces of their presence that would escape the notice of the casual passerby: a fenced-in area, often surmounting a gentle hill, of olive and other fruit trees left untended, of cactus hedges and domesticated plants run wild. Now and then a few crumbled houses are left standing, a neglected mosque or church, collapsing walls along the ghost of a village lane, but in the vast majority of cases, all that remains is a scattering of stones and rubble across a forgotten landscape."
-- W. Khalidi, All That Remains
Dates:
April 8: Abd al-Kader Husseini killed in counter-attack at Qastel, western suburb of Jerusalem.
April 9: Irgun and Stern Gangs led by Menahim Begin and Yitzhak Shamir massacre 245 Palestinians in the village of Deir Yassin, western suburb of Jerusalem.
April 11: Haganah destroy village of Kalonia near Qastel and occupy Deir Yassin.
April 30: Palestinians in all quarters of West Jerusalem occupied by Haganah are driven out.

More about Palestine:

[Main| Home| Our Message| Must Read| About Us| History &Culture]
[News| Martyrs| Gallery| Nasheed (songs)| Express Yourself]
[Kids Corner| Links| Question of the Week| Chat]
[Link Us| Contact Us| Site Map]

View My Guestbook
Sign My Guestbook